News
Stay informed about the latest enterprise technology news and product updates.
HDS makes bold move into MAID storage
Users of HDS' AMS and WMS arrays can now power Fibre Channel and SATA disk drives up and down, but there's still some apprehension in the market about the risks of the technology.
This Article Covers
RELATED TOPICS
Looking for something else?
Hitachi Data Systems (HDS) announced that users will be able to power up and power down both Fibre Channel and SATA disks in its Adaptable Modular Storage (AMS) and Workgroup Modular Storage (WMS) midrange arrays to save energy costs.

Download this free guide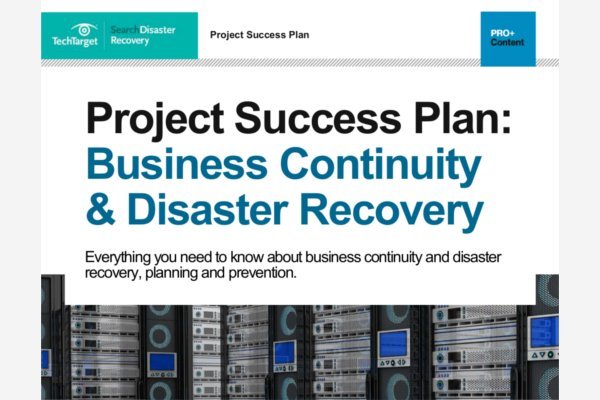 Access this all-encompassing 82-page guide to DR/BC strategies
Discover the top considerations you need to know when developing a business continuity and disaster recovery plan, learn about the top DR products on the market today, get tips on how to budget and prepare staff for various DR/BC exercises and much more.

By submitting your personal information, you agree that TechTarget and its partners may contact you regarding relevant content, products and special offers.

You also agree that your personal information may be transferred and processed in the United States, and that you have read and agree to the Terms of Use and the Privacy Policy.

The technology, similar to the MAID systems already shipping from vendors, including NEC Corp. of America, Nexsan Technologies Inc. and Copan Systems Inc., is different from those other systems. Users can designate which disks should be spun down volume by volume, rather than having the system spin the disks down automatically according to frequency of access. Another difference is that other MAID systems currently on the market do not support powering Fibre Channel up and down.

"Typically if users put data on a Fibre Channel drive, the assumption is that it's not something you want spun down, but we wanted to give users the flexibility to do it," said Kevin Sampson, director of product marketing for storage infrastructure with HDS, since some secondary storage applications, such as virtual tape libraries (VTL) still run on Fibre Channel disk. This is also the reason drives are spun down in the HDS systems, according to RAID groups. "VTL volumes and archival volumes tend to be large LUNs [logical unit numbers], kept in a single RAID group."

The feature, which is formally called Power Savings Storage Service, is an add-on licensing fee for the system priced per frame, but HDS isn't publicly releasing any further pricing details at this time, according to Sampson, who declined to give a dollar figure for the license or a reason why the details are being kept under lock and key.

Meanwhile, it's unclear what kind of reception MAID systems have gotten in the market. Copan has remained in business based on the concept for several years, but over the last year or so, questions have also begun to emerge among some in the industry about the effect of the technology on disk reliability. Users at this year's Storage Networking World (SNW) conference, for example, were skeptical about MAID in discussions at sessions focused on power consumption -- "a great way to double your failure rate," one said.

According to analysts, there has also been some uncertainty about MAID and disk reliability created in the market by storage vendors themselves who can't offer the feature. "Storage vendors have themselves to blame for the FUD [fear, uncertainty and doubt] -- they fueled it," said Stephanie Balaouras, senior analyst with Forrester Research Inc.

"We have tested the system by powering up and down several thousand times with no problems," Sampson said, adding that HDS had seen no change in the MTBF between the MAID and non-MAID systems. He said there is no limit, either practically or theoretically, to the number of times a drive can be spun down using this service, and no limit to the duration of time drives can be kept powered off. Like Copan's systems, HDS' version also checks disks for errors in the background while they are powered off.

However, HDS also has some best practices it's recommending for users, though there's nothing in the software that will prevent users from powering down whatever volumes they want. HDS is recommending that users keep at least one RAID group spinning at all times on the array and is not recommending that users spin down drives in a RAID 0 configuration. HDS also offers RAID 6 with these arrays, Sampson pointed out, and with adequate RAID protection, "even if you did lose a drive, you could get the data back."

It's also unclear just which applications MAID systems are best suited for. Sampson said HDS is anticipating that its high-end USP customers who use WMS and AMS systems for lower storage tiers would use the feature for archival data. "We've been doing research in the market consistently now for years that's showing 60% to 80% of data on storage systems is fixed or dormant content," said Tony Asaro, senior analyst with the Enterprise Strategy Group (ESG). Asaro pointed out that discovering and migrating dormant data is exactly what the many storage resource management (SRM) tools currently on the market were designed to do. "Users can put this kind of system into an existing tiered storage scheme and migrate data to it according to policy."

Balaouras suggested that the niche best suited to MAID systems is "all the usual rich digital content," including medical images or financial document images, as well as emails, IMs and voicemail files associated with unified communications. But, she added, "it's probably more about [HDS] making a statement than significant demand … any vendor that can advance a tangible green strategy is moving with the market, and I think HDS is trying to display its engineering superiority."
Dig Deeper on Small-midsized Business Storage Hardware