News
Stay informed about the latest enterprise technology news and product updates.
EMC World: Iomega weighs in on consumer storage vs. enterprise storage
Iomega talks of developing consumer storage within EMC, including a possible Windows answer to Apple's Time Machine.
This Article Covers
RELATED TOPICS
Looking for something else?
LAS VEGAS -- With EMC Corp.'s $213 million acquisition of Iomega Corp. expected to close in June, Iomega's president Tom Kampfer sat down with SearchStorage.com at EMC World to discuss the finer points of consumer versus enterprise storage products, products Iomega could develop with a new influx of research and development cash.

Download this free guide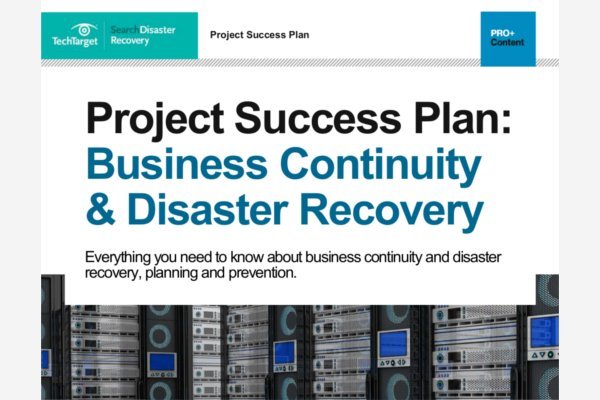 Access this all-encompassing 82-page guide to DR/BC strategies
Discover the top considerations you need to know when developing a business continuity and disaster recovery plan, learn about the top DR products on the market today, get tips on how to budget and prepare staff for various DR/BC exercises and much more.

By submitting your personal information, you agree that TechTarget and its partners may contact you regarding relevant content, products and special offers.

You also agree that your personal information may be transferred and processed in the United States, and that you have read and agree to the Terms of Use and the Privacy Policy.

You say your products are 'built from the ground up for small businesses.' What does that mean?

Tom Kampfer: Our market is highly price-sensitive. A terabyte of storage for $300 with RAID 1 is unheard of in the enterprise space, as are four hot-swap drives for $700. Part of the way we keep costs low is to run an embedded Linux OS, with a focus toward ease of use and usability. As an appliance, it's fully compatible with other operating systems and the user never knows or cares what the OS is. What they see is an administration console and a front-end GUI. But using that Linux OS means that we can get very adequate performance on processors from Marvell and Freescale, which are much less expensive than Intel. The world is moving toward systems on chips with embedded functions. That's the lowest cost where performance isn't a critical factor.

When we develop products, it's also a very different process for us than for an enterprise company. We can bring a product from scribbling an idea on a piece of paper to putting it on a retail shelf in four months. We need to be able to continue to do that. We need to find what's good in EMC and leverage it as much as we can, but retain our nimbleness and speed. We have to continue to move quickly – this market waits for no one.

Everything about selling a consumer product through a retailer is different from the enterprise, from the development process to the way you message and support that product. For example, we spend a lot of time on industrial design, on the look and size of the product. Small is good -- people are much more interested in very compact designs today. We also have to pay attention to things like noise parameters for products that will go into a home. We focus on having our appliances be plug and play. We like to have customers up and running in 15 minutes, and if they don't love us within the first 30 minutes of opening the box, that can hurt us.

Who's your biggest competitor in consumer storage?

Kampfer: On the network storage side, Buffalo [Technology] is our biggest competitor.

How does Apple factor in? Doesn't it have a lot of consumer brand cachet?

Kampfer: Apple is actually a great customer of Iomega. We've built products inspired by Mac designs and as a result our products are being distributed in their stores. We have the only external hard drive uniquely designed for Apple. Our external drives can run on top of a Mac Mini or the AirPort Extreme router.

What about Time Capsule?

Kampfer: In that sense, Apple is competitive – that's a product Apple developed that puts together a wireless router with an internal hard drive. This is the way the market's going. Now that people have one PC managed, they're realizing that their whole family acts like a small business. We all have wireless routers already – there are over 50 million in homes today – and it's easy to just hook up an external hard drive to it so everyone in the family has access to a networked hard drives. Once network storage is pervasive in the home, which I believe will happen soon, that appliance could be the controller of the home because that's where all the data is stored. It could be an answer to Time Capsule. Once you have a hard drive on the network and EMC software to network the clients to it, the only difference is that Time Capsule squishes together the drive with the router.

Of course, we could do that too – maybe there's a Time Capsule for Windows coming. I don't know.

So how low could EMC-Iomega go? Could you get into things like MP3 players? They're technically storage devices.

Kampfer: Technically it is a storage medium, but without the iTunes service it's been difficult to make money in the MP3 world, so I would stay away from that. What we do have is a product called Screenplay, which is a simple device where you can save pictures, videos and music, and then connect it to the TV and use a remote to play out anything you want. It's been very successful for us. Now we'll network it, and you'll be able to play back those files anywhere. That's a simple example of the kind of thing that could be very real as soon as the next six months.

You were on the verge of merging with a Chinese company called ExcelStor. What made you take EMC's offer instead?

Kampfer Both companies had a keen interest in our brand and channels, but for different reasons. EMC wants to get to market faster and enter a market segment they didn't want to play in. But what persuaded our board was that the Chinese transaction was to be stock and not cash, which makes its value less certain. The opportunity was a good opportunity. But, there was a pretty significant execution risk with the complexity in closing the deal, getting Chinese government approval and executing on an integration strategy with language and cultural differences, as well as great distances in time and miles. With EMC, not only did their offer maximize the shareholder value in a cash transaction, but there was a lot more certainty to closing the deal and integrating two U.S.-based publicly traded companies. We could come together quickly and Iomega could get back to business.
Dig Deeper on Small-midsized Business Storage Hardware