News
Stay informed about the latest enterprise technology news and product updates.
IBM looks to squash HP's Shorty blade server with its BladeCenter S chassis
IBM updates its blade server chassis for SMBs up to 9 TB of storage capacity, renewing its competition with HP's Shorty half-height storage and blade server.
This Article Covers
RELATED TOPICS
Looking for something else?
IBM's BladeCenter S chassis for small and medium-sized businesses (SMBs) can now support SAS or SATA shared storage within the enclosure. With the updated chassis, IBM can offer small shops and remote offices up to six servers and a 9 TB storage area network (SAN) in one box, thereby renewing its competition with Hewlett-Packard's BladeSystem c3000 Shorty product.

Download this free guide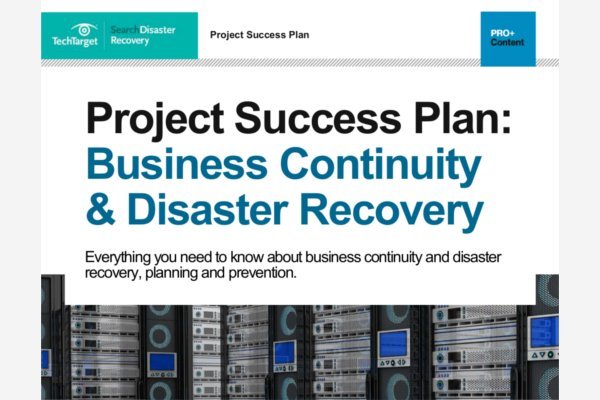 Access this all-encompassing 82-page guide to DR/BC strategies
Discover the top considerations you need to know when developing a business continuity and disaster recovery plan, learn about the top DR products on the market today, get tips on how to budget and prepare staff for various DR/BC exercises and much more.

By submitting your personal information, you agree that TechTarget and its partners may contact you regarding relevant content, products and special offers.

You also agree that your personal information may be transferred and processed in the United States, and that you have read and agree to the Terms of Use and the Privacy Policy.

The BladeCenter S has always supported drive bay modules on either side of the blade servers within the chassis, but that storage used to be direct-attached to adjacent server blades that also have internal system disks. All disks in the blade chassis, including the blades' internal disks, can now be shared among all servers in the chassis with direct point-to-point SAS connections, rather than a separate network, said Scott Tease, worldwide product marketing manager for IBM BladeCenter.

Customers can slot up to 12 drives in four three-drive hardware modules with a choice of 3.5-inch or 2.5-inch SAS or SATA. The highest-capacity configuration using SATA disks can hold up to 9 TB, while the highest performing configuration can offer 3 Gbps throughput using SAS drives.

The ability to share storage internal to the chassis follows HP's AiO networked-storage blade into the market by about a year, though the BladeCenter S was announced prior to the c3000 and has supported attachment to external NAS arrays. HP recently refreshed the Shorty product line with the HP Adaptive Infrastructure in a Box for Midsize Businesses bundle based on the BladeSystem c3000 and offers the HP StorageWorks All-in-One SB600c iSCSI and NAS storage blade on the low end, or for larger companies, the StorageWorks 2000i MSA.

IBM admitted the shared-storage update to the BladeCenter S is in part a competitive answer to Shorty's storage blade, but pointed out that performance in the HP box is limited to an internal GbE network while the shared SAS disks in the IBM system allow for native SAS throughput speeds of 3 Gbps. Meanwhile, IBM's list prices are comparable to both flavors of the BladeSystem c3000, at $2,599 for the chassis and $7,000 per pair of storage modules. HP says list pricing for the storage blade is $9,968. Pricing for the chassis starts at $3,481 according to HP's website. "The capacity that IBM provides in this form factor makes it a very powerful product," said IDC analyst Natalya Yezhkova.

Cracking the SMB market a channel challenge for IBM

Unlike some of the Fibre Channel external storage products IBM has positioned for the SMB market in the past, the pricing for the BladeCenter S looks to be more affordable to truly small businesses, according to Yezhkova. However, it's not clear through IDC's market research that the smallest of small businesses are necessarily picking up on shared or networked storage, yet.

"HP has a good message and good offerings in its All-in-One storage systems," she said, but IDC tracker numbers show that all of the All-in-One products, including the blade, have had run rates below $10 million per quarter so far.

IBM is also building its channel to reach SMBs with 80 Blade and Storage Solutions Centers (BSSC) throughout the country set up to demonstrate the product specifically to small businesses.

"Small business IT departments typically report through the CFO, and so we may be talking more to the financial organization than a technical organization," said Don Reczek, director of technology solutions for KDSA Consulting LLC. Reczek's company goes out of its way to make the demonstration and sales process "nonintimidating" for companies without specialized IT expertise.

Still, he said he expects much of the interest in the new storage blade to come from companies looking to set it up at remote and branch offices with management at a central data center. IBM seems to be anticipating this use case, as well. The management software for the BladeCenter S can be plugged into the same console used to manage the larger data center-class BladeCenter H chassis.
Dig Deeper on Small-midsized Business Storage Hardware