News
Stay informed about the latest enterprise technology news and product updates.
EMC offers SMB and home office NAS appliance
EMC's first product to come from its Iomega acquisition is a network storage appliance for SMBs and home offices that run EMC's LifeLine software.
This Article Covers
RELATED TOPICS
Looking for something else?
EMC Corp.'s Iomega small business and consumer product division made its first significant move into the small and medium-sized business (SMB), home office and digital home market with the release of the StorCenter ix2 network storage appliance.

Download this free guide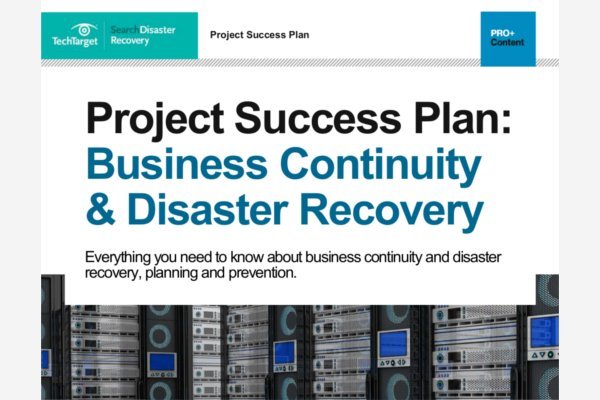 Access this all-encompassing 82-page guide to DR/BC strategies
Discover the top considerations you need to know when developing a business continuity and disaster recovery plan, learn about the top DR products on the market today, get tips on how to budget and prepare staff for various DR/BC exercises and much more.

By submitting your personal information, you agree that TechTarget and its partners may contact you regarding relevant content, products and special offers.

You also agree that your personal information may be transferred and processed in the United States, and that you have read and agree to the Terms of Use and the Privacy Policy.

The StorCenter ix2 comes in two models: a 1 TB capacity model at a $299 suggested retail price and a 2 TB model for $479. The StorCenter ix2 is the first Iomega product released by EMC since it acquired Iomega for $213 million in April.

The Gigabit Ethernet (GigE) appliance is about the same size as a large dictionary with two 7,200 rpm SATA II drives and two USB ports, and it supports JBOD and RAID 1 configurations. For home users, the StorCenter ix2 supports Universal Plug and Play (UPnP)-certified devices, as well as Digital Living Network Alliance (DLNA)-certified devices.

The StorCenter ix2 runs EMC's LifeLine software, a Linux NAS operating environment and suite of applications, which includes EMC's RSA packet signing security software, Retrospect backup and disaster recovery program and support for Active Directory and video surveillance with Axis Communications cameras.

EMC released the LifeLine software in January 2008 and embedded it into the Intel Entry Storage System SS4200. EMC initially planned to offer LifeLine to partners as a software-only package, said Jonathan Huberman, president of Iomega and EMC's consumer and small business products division. That strategy changed after EMC acquired Iomega. Now EMC plans to offer LifeLine almost exclusively in its own appliances, he said.

Iomega plans to add support for remote access, iSCSI, jumbo-frame support and disk-to-disk replication to the StorCenter ix2 family in the next three to nine months. Iomega is also looking at continuous data protection (CDP) and data deduplication, and plans to leverage EMC's VMware virtualization platform. "We've got a roadmap that will last us until 2010," Huberman said. The plan is to offer updates and new applications free to StorCenter ix2 owners.

The StorCenter ix2 may get EMC a strong foothold in the SMB, home office and digital home market, said Merle Sandler, IDC's research manager for the SMB and home office market. "It sounds like this product has more features than the comparable products out there. If EMC wants to get into the small business market, this is the way to get in the door," Sandler said.

The SMB, home office and digital home market leader is Buffalo Technology, Huberman said. Other competitors include Netgear and Western Digital. Huberman believes NAS is the future of the SMB and digital home storage market. "We see that DAS is blending into NAS," he said. "Two-and-a-half-inch drives have usurped three-and-a-half-inch drives as the majority market leader. I expect over the next couple of years the network-attached drives will usurp market leadership from DAS as the difference in cost continues to dwindle and the functionality continues to improve."

IDC's Sandler said EMC also faces competition from online storage services, including EMC's own MozyHome service, which offers unlimited online backup for roughly $5.00 per month and "nonconsumption." Many smaller companies don't have a storage and backup plan, or they have policies on paper but have never implemented them.

While the StorCenter ix2 may be suitable for today's SMB storage needs, the strategy for adding capacity is unclear. StorCenter ix2 isn't built for adding capacity via a daisy chain, Huberman said. The two USB ports offer some possible expansion, but it's also unclear if the StorCenter ix2 would include any USB-added storage in a RAID configuration.

The StorCenter ix2 is available immediately from EMC's channel partners and Iomega's website.
Dig Deeper on Small-midsized Business NAS