News
Stay informed about the latest enterprise technology news and product updates.
Two iSCSI SAN vendors drop prices to snare Dell EqualLogic users
iQstor bundles in unlimited software licenses; StoneFly allows for expansion through JBODs.
This Article Covers
RELATED TOPICS
Looking for something else?
TECHNOLOGIES
Two iSCSI SAN vendors -- iQStor and StoneFly -- are sweetening their deals for customers by adding features and lowering prices for their storage products.

Download this free guide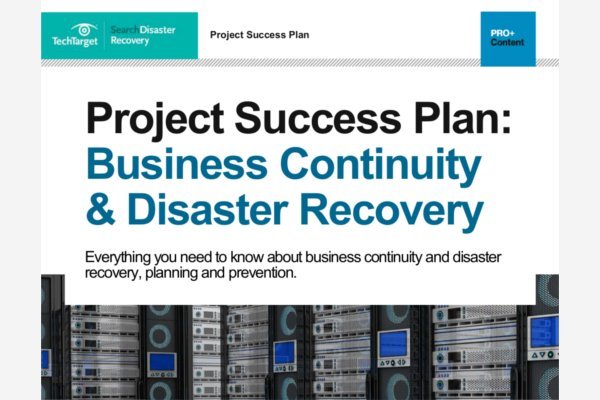 Access this all-encompassing 82-page guide to DR/BC strategies
Discover the top considerations you need to know when developing a business continuity and disaster recovery plan, learn about the top DR products on the market today, get tips on how to budget and prepare staff for various DR/BC exercises and much more.

By submitting your personal information, you agree that TechTarget and its partners may contact you regarding relevant content, products and special offers.

You also agree that your personal information may be transferred and processed in the United States, and that you have read and agree to the Terms of Use and the Privacy Policy.

iQStor, which also offers Fibre Channel (FC) SANs, is discontinuing its a la carte pricing for storage management software such as snapshots and replication in favor of bundled, perpetual and unlimited licensing with its iQ2850 iSCSI/SATA and iQ2880 FC/SATA SANs.

Albert Saraie, iQStor director of sales and marketing, said that the company is looking to snare EqualLogic channel partners who have dropped or want to drop the EqualLogic product now that it is owned by Dell. Saraie also hopes that lower prices will resonate in the current economic downturn.

But Saraie insisted the company's new strategy is also about simplifying management of its disk arrays. "Our business had been more focused on OEM and private-label clients until recently," he said. "Now we're getting more into the VAR channel and reseller customers, who want this kind of complete solution."

The approach of iQStor differs from that of EqualLogic in terms of its software distribution. Whereas iQStor's software resides only on the main controller, EqualLogic offers the software with each of its modular arrays. Some EqualLogic customers have told SearchStorage.com that they would rather buy expansion disk without having to pay further software costs.

The iQStor 2850 and 2880 arrays consist of hardware RAID controllers and switch-connected disk expansion units that automatically join the existing storage pool when new capacity is added. The vendor is adding managed snapshot and volume copy services, synchronous and asynchronous remote replication, multipathing, dynamic provisioning, database application agents, and SAN manager management software.

Estimated end-user price for a 15 TB 2880 array is $27,950 -- about 30% less than a previous iQStor system. A dual-controller iQ2880 FC system with 15 TB costs $28,950.

StoneFly supports SAS, lowers expansion costs for IP SAN

StoneFly is adding configurations for its ISC line of entry-level server-based IP SAN products, and lowering the price for its HSC midrange HA iSCSI SANs. The ISC line of SANs include a Storage Virtualization Engine, a server from StoneFly parent company DNF Inc. with quad-core processors and internal storage, and StoneFly's StoneFusion IP SAN management software with replication, mirroring and snapshot.

Previously, Stonefly ISCs could be expanded using JBODs made up of SATA disks. Now StoneFly is adding support for 3.5-inch 450 GB SAS disks in expansion arrays. The ISC units are available in four models: the 401(s), with four drives; the 402(s), with eight drives; the 1602(s) with 16 drives; and the 2402(s) with 24 drives. JBODs can add up to 72 additional disks.

StoneFly product manager James Ervin says the company also spent a year working to allow new capacity in SAS- and SATA-based expansion units to be brought into the existing storage pool. The ISC also now offers up to 6 Gigabit Ethernet or dual 10 GigE ports on the host side.

Because the JBODs are managed by the software within the Storage Virtualization Engine rather than requiring hardware RAID on the back end, expansion will be cheaper, according to the company. Ervin estimated the overall price difference at about 30%. A StoneFly press release said expansion that used to cost approximately $1 per gigabyte now is estimated at 80 cents per gigabyte.

Finally, pricing for the clusterable HSC, which supports up to four ISC-type nodes for an HA configuration, has also been dropped to $43,000 for 32 TB. The ISC's new pricing is approximately $8,100 for SATA and $10,100 for SAS. Previous pricing figures were not immediately available.

Darryl Riddlespurger, president of StoneFly VAR StoreHouse Technologies in San Diego, said he's also looking to compete with Dell/EqualLogic with StoneFly's offering, which his company has been reselling for about three years. "EqualLogic is probably the biggest competition out there," he said. "StoneFly offers [me] enterprise features and scalability at a lower cost than EqualLogic or LeftHand." StoneFly's ISC can scale up to 90 TB and can use dual controllers, which is rare in the low-end iSCSI SAN market. Riddlespurger hopes SAS support will also help the product compete in the tiered storage space.

New class of emerging storage companies

According to Forrester Research analyst Andrew Reichman, companies like iQStor and StoneFly represent a new smaller class of emerging storage companies following a major wave of acquisitions and IPOs for the likes of Compellent Technologies Inc., EqualLogic and LeftHand Networks. "No doubt iSCSI is going to resonate among companies trying to continue to grow in a down economy," he said. "It's a way to get full-featured network storage without investing in expertise or components."

However, at this stage of the game, "there are a lot of differentiated products out there—[iSCSI] is no longer an emerging technology," he said. "I'm interested to see how these companies will be investing in R&D and new features. You can't really live on price wars alone for too long."
Dig Deeper on Small-midsized Business SAN