News
Stay informed about the latest enterprise technology news and product updates.
Data Robotics automates RAID 6, thin provisioning for SMBs with DroboPro
Data Robotics' successor to its Drobo desktop product -- Drobo Pro -- has new features for businesses including dual-disk protection, thin provisioning, iSCSI support, and more capacity.
This Article Covers
RELATED TOPICS
Looking for something else?
ORLANDO, Fla. -- Data Robotics Inc. announced at Storage Networking World today that it's taking its self-healing consumer desktop storage device into the SMB market with DroboPro, an eight-bay device with beefed up data protection and management features.

Download this free guide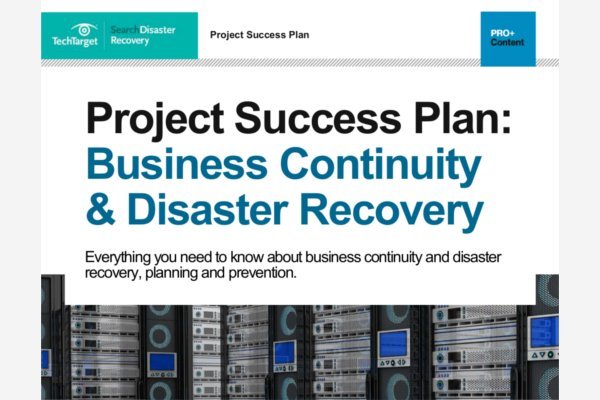 Access this all-encompassing 82-page guide to DR/BC strategies
Discover the top considerations you need to know when developing a business continuity and disaster recovery plan, learn about the top DR products on the market today, get tips on how to budget and prepare staff for various DR/BC exercises and much more.

By submitting your personal information, you agree that TechTarget and its partners may contact you regarding relevant content, products and special offers.

You also agree that your personal information may be transferred and processed in the United States, and that you have read and agree to the Terms of Use and the Privacy Policy.

DroboPro supports drives up to 2 TB in size. DroboPro offers a choice of Firewire, USB 2.0 and Gigabit Ethernet iSCSI connections. iSCSI connections can be established automatically when the device is first plugged in to the network.

Other features Drobo added for businesses include dual-disk protection and thin provisioning.

Drobo has been shipping a four-bay desktop product for consumers since 2007. As with the desktop box, DroboPro lets customers mix and match disks of varying capacities from different drive makers in the same RAID group, automatically applying a combination of mirroring and striping to protect data without user intervention. Customers can remove disks and replace them with larger capacity drives, and data will be automatically rebalanced among them. Disks can also be moved from one device to another with data intact.

Drobo desktop offered up to RAID 5 single-parity protection. DroboPro supports dual disk parity, or RAID 6. DroboPro also uses color-coded lights on the front of the device to display capacity utilization and notify customers when a disk needs to be swapped out.

"It's a pretty slick implementation," said IDC analyst David Reinsel, who said he uses one of the Drobo desktop devices at home. "It automates RAID, something oftentimes people have to figure out how to do and how to fix on their own."

DroboPro can hold a maximum of 16 TB with 2 TB disk drives. Jillian Mansolf, senior vice president of sales and marketing for Data Robotics, said customers must buy another device if they want more than 16 TB. "Since we're targeting companies with 100 users or less, we feel pretty safe that they won't hit the capacity limit quickly," she said.

Customers must be cautious about hitting capacity limits when using the thin provisioning, according to Reinsel, but "that's one of the reasons even some enterprise customers today are hesitant to implement thin provisioning -- it's not just an SMB concern." DroboPro notifies customers of capacity limits with its display lights, a software dashboard and an email-alerting feature.

Drobo desktop user Wayne Titus, owner of tax accounting and wealth management firm AMDG International, said he began beta testing DroboPro about six weeks ago. Titus said he's been using two Drobo desktop devices, one at home and one for backing up files at his office. However, the USB 2.0 connection to the smaller, slower box has been overwhelmed by his attempts to do daily backups to it on 300 GB of data.

"I had the capacity to backup all my data, but not the bandwidth," he said. "I had to start being selective about what files I backed up."

Titus said he expects DroboPro will comfortably accommodate the company's performance needs with room to spare. "To test it, I had five HD video sessions running while I downloaded another HD video and did all my system backups," he said. "That's far beyond what our business would need."

Reinsel said DroboPro's ease-of-use features should be appealing to SMBs, but Data Robotics may have a hard time rising above the noise in the market for low-end storage. Just this quarter, EMC Corp. beefed up its Iomega consumer/prosumer NAS boxes; Hitachi GST acquired a company called Fabrik last month, which makes external hard drive systems for Macs and PCs; NetGear began offering a ReadyNAS line of products with pre-integrated cloud backup; and Seagate released a line of self-encrypting NAS devices called BlackArmor.

"The target customer for Drobo is tough to reach," he said. "Drobo isn't necessarily a brand they know."
Dig Deeper on Small-midsized Business Storage Hardware