News
Stay informed about the latest enterprise technology news and product updates.
SMB data storage briefs: Sony adds 320 GB DAT tape to its tape line
This week's SMB news in brief: Sony adds 320 GB DAT tape to its tape line; QNAP releases new series of Turbo NAS servers.
This Article Covers
RELATED TOPICS
Looking for something else?
The following is a compilation of the latest small- to medium-sized business (SMB) data storage technology news.
Sony adds 320 GB DAT tape to its tape line
Sony Corp. added a new tape cartridge, the DAT320, to its line of DAT tape cartridges. The DAT320 is the first DAT tape in Sony's line to use their Advanced Metal Evaporated (AME) technology, which increases recording density.

Download this free guide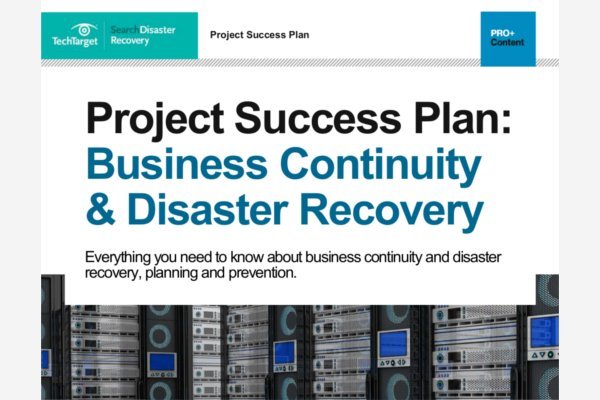 Access this all-encompassing 82-page guide to DR/BC strategies
Discover the top considerations you need to know when developing a business continuity and disaster recovery plan, learn about the top DR products on the market today, get tips on how to budget and prepare staff for various DR/BC exercises and much more.
By submitting your personal information, you agree that TechTarget and its partners may contact you regarding relevant content, products and special offers.
You also agree that your personal information may be transferred and processed in the United States, and that you have read and agree to the Terms of Use and the Privacy Policy.
The DAT320 can read and write both DAT 160 and DAT 320 media, stores up to 320 GB on a removable cartridge and transfers data at a rate of 24 MB/s. Also, it comes with hardware-based data encryption for additional data storage security. Pricing for the new tape drive starts at $45.99.
QNAP releases new series of Turbo NAS servers
QNAP Systems Inc. released a new series of high-performance Turbo network-attached storage (NAS) servers: the TS-259 Pro, TS-459 Pro, TS-659 Pro and TS-859 Pro. Each NAS server is compatible with VMware's vSphere4 virtualization platform.
The NAS series comes with the Intel Atom D-510 dual-core processor, allowing the servers to complete multiple tasks while transferring data with low power consumption. Pricing for the servers begins at $599.
Rebit introduces SaveMe software and backup drives
Rebit Inc. introduced a new software and data backup drive, SaveMe, a data backup and recovery product for small- to medium-sized businesses (SMBs) that works to continuously protect data on PCs from security breaches, viruses and crashes. If something happens to the PC, users can go back to a specific point in time and recover files and folders.
SaveMe's main feature is the SmartSave Personalization Technology, which backs up systems as well as provides additional data storage space for extra files.
SaveMe can provide data backup and recovery for up to six PCs. Portable data backup drives are available in 250 GB, 320 GB and 500 GB. Desktop drives are available in 500 GB, 1 TB and 2 TB.
LaCie announces new storage server technology for SMBs
LaCie announced a new network storage server based on the Microsoft Windows Home Server platform. The new server is geared towards SMBs who want to automatically back up their computers to a single server. Additionally, the server can back up their data locally and remotely by copying their data to the cloud.
Do you have SMB data storage news to share with us? Email the editors of SearchSMBStorage.com.
Dig Deeper on Small-midsized Business Backup