SMBs look to cloud storage services for data compliance and e-discovery
SMBs are turning to the cloud instead of building an infrastructure to deal with compliance or e-discovery needs, or to complement their in-house mail and collaboration tools.
This Article Covers
RELATED TOPICS
Looking for something else?
Small- to medium-sized businesses (SMBs) facing e-discovery requirements are beginning to use cloud storage services and other Software-as-a-Service (SaaS) offerings for data compliance needs such as email and collaboration, experts say.

Download this free guide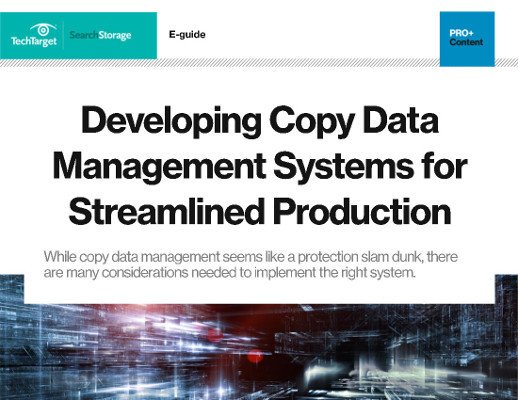 Copy management: Flexible framework amid solution fluctuations
While the honeymoon for standalone CDM appliances isn't over, many vendors also offer built-in CDM functionality. Download our guide for an examination of the CDM market, which vendors to keep your eye on (i.e. Actifio, Commvault, Catalogic, etc.), and a framework for establishing lasting copy management—no matter how the solutions for doing so fluctuate.

By submitting your personal information, you agree that TechTarget and its partners may contact you regarding relevant content, products and special offers.

You also agree that your personal information may be transferred and processed in the United States, and that you have read and agree to the Terms of Use and the Privacy Policy.

Many SMBs outsource base systems such as email and customer relationship management (CRM) to SaaS providers as their first online services because of potentially large cost savings and infrastructure flexibility, said Ed Laczynski, CTO of LTech Consulting LLC, a Bridgewater, NJ-based cloud service provider and consulting firm.

"More often than not they are looking for an on-ramp to the cloud," Laczynski said, citing online email and collaboration services as functions SMBs are switching to the cloud.

Even if SMBs procure basic email services to test the online storage services waters, they remain responsible for complying with regulatory compliance and e-discovery requirements. SMBs in regulated industries might be required to keep correspondence and documents for years. According to Laczynski, basic SaaS services such as Google Inc.'s Google Apps, don't include business-class compliance features. He said 60% of his smaller SMB customers are asking for additional online data backup and data archiving products.

Laczynski said he also sees SMBs integrate tools they already had for compliance such as Symantec Corp.'s Enterprise Vault or Barracuda Networks Inc.'s products with online services.

Build you own e-discovery process

But Forrester Research Inc. analyst James Staten said many SMBs must decide to build their own e-discovery processes or outsource because they can't afford a hybrid approach.

"The idea that a small business is going to conclude that they should still run their own Exchange server but offload archiving, disaster recovery, and the other functions doesn't really solve the problem," Staten said. "You end up with two bills instead of one."

Staten said that while many SMBs have come to grips with compliance regulations, they have not invested in e-discovery processes or infrastructure. "More often than not they are cash-strapped all the time, and the last thing they want to spend money on is another IT process," he said. "They'd much rather spend it on things that grow the business now. That prioritization exercise keeps e-discovery from becoming a reality for most businesses until it's close to the end of the line where you have to do it, or in arrears."

Staten also said SMBs are reluctant to deal directly with cloud storage service providers, often preferring to go through internet service providers (ISPs) and VARs.

"A lot of cloud companies think that they can successfully sell to lots of small businesses by just having a Web presence," he said. "And it just isn't true. Most small businesses don't buy technology directly. As things become more cloud centric, they [cloud services] will shift more and more to the ISP."
Dig Deeper on Small-midsized Business Data Storage Management