News
Stay informed about the latest enterprise technology news and product updates.
Elite Brands turns to Data Robotics DroboElite for data backup plan
SMB turns to Data Robotics' iSCSI system to alleviate backup problems caused by large SQL databases and little available space on standalone servers, after determining most networked storage options were too big for its needs.
This Article Covers
RELATED TOPICS
Looking for something else?
Elite Brands' IT Director Dylan McCollough knew it was time to upgrade his storage for his data backup plan when he didn't have enough space on his servers to do local data backups and even had trouble getting data off site to its backup service provider. He solved the problem with a Data Robotics Inc. DroboElite iSCSI system developed specifically for small businesses to handle its burdensome SQL backups.

Download this free guide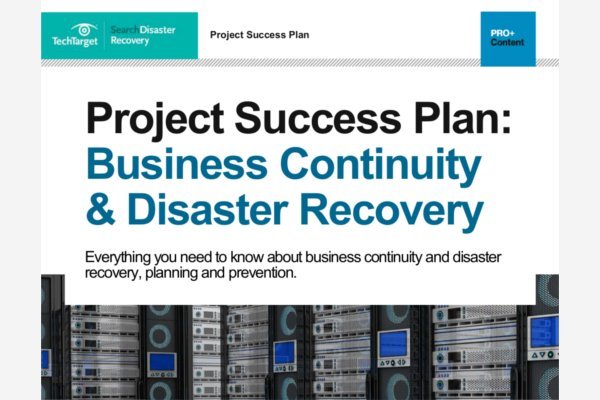 Access this all-encompassing 82-page guide to DR/BC strategies
Discover the top considerations you need to know when developing a business continuity and disaster recovery plan, learn about the top DR products on the market today, get tips on how to budget and prepare staff for various DR/BC exercises and much more.

By submitting your personal information, you agree that TechTarget and its partners may contact you regarding relevant content, products and special offers.

You also agree that your personal information may be transferred and processed in the United States, and that you have read and agree to the Terms of Use and the Privacy Policy.

McCollough said when he started at the Norfolk, MA-based firm that supplies U.S. military commissaries early this year, he quickly noticed the data backup problems.

"Our storage solution was everything stored locally on the server," he said."We didn't have a network device or anything like that."

McCollough said 95% of the capacity on five of his six servers was filled, leaving little space for local backups. Elite was paying SOS Online Backup about $600 per month to back up online, and McCollough also wanted to reduce that fee.

He said some of Elite Brands' SQL databases are 170 GB, and the server drives didn't have enough free space to handle backups.

"The original purpose of upgrading our storage was simply so we could run our online backups, which needed local page dumps," he said. "We had no space on any servers; they were all configured for 10 GB Windows partitions. That wasn't working anymore with SQL Server; we only had 1.5 TB of space.

"Backing up was a huge headache. We only had online backup, and we discovered that wasn't running because our drives were filled, so we scrambled to look at something."

He found Drobo while researching a home data storage system. Unlike many storage systems for small- to medium-sized businesses (SMBs) that have been scaled down from enterprise models, Drobo began as a desktop product and upgraded to add direct-attached storage (DAS) and storage area network (SAN) capabilities.

"I came across Drobo's website and saw a banner that said, 'iSCSI storage for your home office,''" he said. "We did some comparisons, and that's what we went with."

McCollough said most other options were overkill for Elite.

"We didn't want to mess around with Fibre Channel because of costs," he said. "Obviously we would have to get somebody in here to do Fibre stuff, and it was too expensive for us. We didn't want NAS [network-attached storage] because we wanted all of our devices to appear as networked drives on one server.

"We didn't need a Dell/EqualLogic [iSCSI system] with 48 drives, ridiculous amounts of storage, and 255-host connectivity. We didn't need to pay for that."

He said it came down to Drobo and a Hewlett-Packard (HP) Co. StorageWorks 2000i G2 MSA iSCSI system. McCollough decided it would be easier to configure and manage Drobo, largely because of its built-in dual redundancy and ability to survive simultaneous drive failures.

It also helped McCollough that Drobo came out with the DroboElite model not long before he started his search. The DroboElite is Drobo's first system built for businesses, with support for multiple servers, dual Ethernet ports and LUN masking.

McCollough said he also looked at the DroboPro DAS appliance, which costs $1,500 compared to $3,500 for the Elite, but determined it wasn't sufficient for his needs. "DroboPro only supports one host connection," he said. "The Elite supports 16 hosts, and that's perfect for us with only six servers."

Elite Brands purchased an eight-bay DroboElite around the end of January with five 1.5 TB drives, giving it 3.8 TB of usable data with dual-disk redundancy. McCollough said he uses it to support local backups of six Windows 2008 R2 servers and one virtual server with Microsoft Hyper-V (probably a good thing for Elite Brands because DroboElite users have reported problems running with VMware).

McCollough said his DroboElite's average throughput is around 40 MBps to 120 MBps for backups, using only Windows' RoboCopy instead of a backup software application. He says Elite Brands has cut its online backup bill to about $350 a month.

"Every day we do incremental backups of each server and do full backups on the weekend," he said. "We do our SQL backups on Drobo. We don't need to back up as much online. We only back up mission-critical files. Before, we were duplicating almost everything online."

McCollough said he would like to see Drobo add one or two more iSCSI connections to the DroboElite. "We can get bogged down running a couple of file backups at the same time," he said. "Then the speed comes down to about 20 to 35 megabytes per second. So maybe another iSCSI connection could alleviate bandwidth."

As for his personal Drobo, he said he still hasn't bought one, but like many geeks, "I put it on my birthday list. Maybe I'll get one in July."
Dig Deeper on Small-midsized Business SAN