News
Stay informed about the latest enterprise technology news and product updates.
Data Robotics adds file system with Drobo FS, holds off on full-fledged business NAS device
Data Robotics' latest consumer device adds a file system and Gigabit Ethernet network interface, but stops short entering the commercial SMB NAS space for now.
This Article Covers
RELATED TOPICS
Looking for something else?
Data Robotics Inc. is adding a file system to its consumer data storage product line with a new offering called Drobo FS, but won't say at this point whether it plans to add a network-attached storage (NAS) interface for its iSCSI-based DroboPro and DroboElite appliances for small- to medium-sized businesses (SMBs).

Though the company has NAS DNA, as the brainchild of BlueArc Corp. founder Geoff Barrall, Drobo FS is the first of its data storage products to offer a file system interface. Previously announced Drobo products, including the DroboShare, are block storage devices that either attach directly to workstations using USB or FireWire, or to business servers using iSCSI in the case of the Drobo Pro and Drobo Elite.

Download this free guide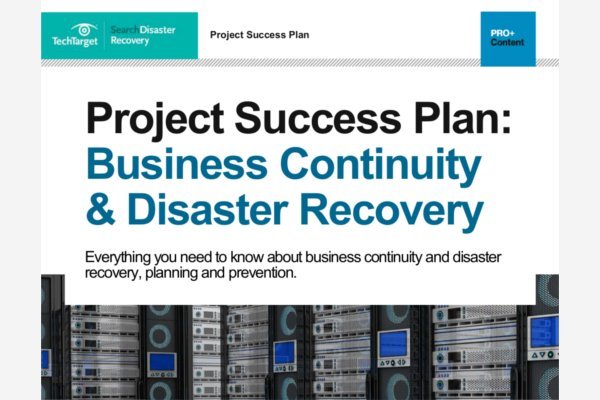 Access this all-encompassing 82-page guide to DR/BC strategies
Discover the top considerations you need to know when developing a business continuity and disaster recovery plan, learn about the top DR products on the market today, get tips on how to budget and prepare staff for various DR/BC exercises and much more.

By submitting your personal information, you agree that TechTarget and its partners may contact you regarding relevant content, products and special offers.

You also agree that your personal information may be transferred and processed in the United States, and that you have read and agree to the Terms of Use and the Privacy Policy.

The Drobo FS adds a proprietary Linux-based file system and a single Gigabit Ethernet connection to the desktop Drobo box. It also adds a fifth disk drive bay to the original Drobo's four slots. Drobo FS holds up to 10 TB, with 5.5 TB usable if the extra drive is used for redundancy.

Data Robotics' own press materials for the Drobo FS launch indicate its customer base has been clamoring for NAS device support: "You told us what you wanted, and we listened," the Drobo FS data sheet reads. "The revolutionary Drobo FS was designed with one purpose in mind: to deliver the best file sharing experience ever."

Data Robotics senior director of marketing Jim Scherhart said Drobo FS "eliminates the USB [connectivity] bottleneck, and adds new processors for a quadruple performance improvement over DroboShare."

But while Data Robotics has SMB storage products with the Pro and Elite models, the company says Drobo FS is meant for home networks in the consumer market, not at what's traditionally considered a small business. It seems a natural move for the company to add a file system interface to its higher end products, but Data Robotics hasn't said whether it plans to make that update, indicating only that it won't comment on future product directions.

Drobo FS beta tester Seth Resnick, founder of D-65, a workshop that trains amateur and professional photographers in digital asset management through partnerships with companies like Adobe and Canon, said he's found his Drobo Pro, Drobo Elite and Drobo FS units a solid choice for data backup and archiving for his business. However, because his primary application Adobe LightRoom is database-based and sensitive to latency, he prefers to keep his primary storage internal to his workstation machines.

"I wouldn't use a Drobo for primary storage – it doesn't perform fast enough," Resnick said. With a single Gigabit Ethernet NIC, Drobo FS doesn't have the redundancy most businesses expect from a primary storage product.

Still, at least in some cases, "Drobo FS could easily slide into the small office/home office [SOHO] or SMB space," said IDC analyst Liz Conner. "I think if the FS catches on, you will see a high-end version with more drives and capacity. My guess is they will probably do that."
Dig Deeper on Small-midsized Business NAS