Manage
Learn to apply best practices and optimize your operations.
Disaster recovery planning tutorial
This feature covers such topics as business continuity on a budget, disaster recovery in a virtualized environment, conducting a disaster recovery test, and more.
This Article Covers
RELATED TOPICS
Looking for something else?
>> Business continuity on a budget
>> Conducting a business impact analysis
>> Establishing a recovery time objective
>> Using disk imaging for disaster recovery
>> Conducting a disaster recovery test
>> Disaster recovery planning with virtual servers

Download this free guide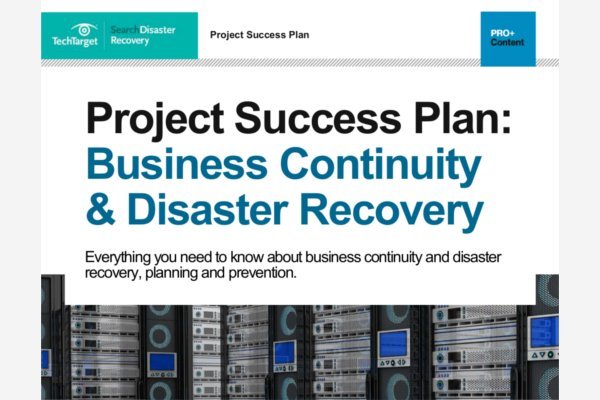 Access this all-encompassing 82-page guide to DR/BC strategies
Discover the top considerations you need to know when developing a business continuity and disaster recovery plan, learn about the top DR products on the market today, get tips on how to budget and prepare staff for various DR/BC exercises and much more.
By submitting your personal information, you agree that TechTarget and its partners may contact you regarding relevant content, products and special offers.
You also agree that your personal information may be transferred and processed in the United States, and that you have read and agree to the Terms of Use and the Privacy Policy.
Business continuity on a budget
Small to midsized businesses (SMBs) once viewed business continuity (BC) planning as an expensive luxury. However, upgrading disaster recovery capabilities is a major priority for 56% of IT decision makers in the U.S. and Europe, according to Forrester Research Inc.'s 2007 Market Overview: Business Continuity Planning.
Unforeseen events are increasingly driving adoption. Manhattan-based Cambridge Security Services Corp. implemented a set of recovery protocols following two major disruptions: the Sept. 11, 2001 terrorist attacks and a major power outage in 2003. Since then, the 707-employee security firm has spent $110,000 to upgrade equipment and build redundant capabilities.
"We provide essential services to our clients when they need us the most," says Ralph Martell, the company's regional vice president. "As we grew, we realized we weren't prepared to deal with a national emergency."
Learn more about business continuity planning on a shoestring budget.
Conducting a business impact analysis
Conducting a business impact analysis (BIA) is often viewed as an exercise that is exclusive to enterprise-class organizations with seemingly limitless funds for consulting services. Large consulting firms often spend months mapping every business process and interviewing numerous business unit representatives to come up with sophisticated financial loss projection charts.
SMBs have the same requirements as enterprises, albeit on a smaller scale.
Learn more about conducting a business impact analysis.
How to establish a recovery time objective
Establishing the recovery time objective (RTO) for your critical data is imperative. The RTO is the specific amount of time before your business is negatively impacted by the interruption of a system or application supporting one or many critical business processes. It is generally accepted that an outage exceeding the RTO set by a company can be considered a disaster.
It is important to note that an RTO is not the same as a service-level agreement (SLA). SLAs are usually defined for a single application or service and can be much more aggressive than an RTO, as they typically include planned outages and often assume the availability of other IT infrastructure components. Additionally, the consequences of a missed SLA are often not as severe as a missed RTO.
Learn more about establishing a recovery time objective.
Using disk imaging for disaster recovery
Disk imaging can provide working backups with fast recovery to handle the most common kinds of storage problems, such as accidentally deleted files. Disk imaging software typically takes images of changed files at frequent intervals and can recover files and folders quickly.
Disk imaging software can also be used to create an image of an entire disk or array for disaster recovery purposes. Often disk imaging software will export the image over a network to a tape library or remote location for additional protection. While you probably have working backup imaging capability in your existing software, don't automatically assume it will do a good job for disaster recovery. It is worth taking a look at the feature set in what you have and perhaps purchasing a program (or subscribing to a service) for disaster recovery.
Learn more about using disk imaging for disaster recovery.
Conducting a disaster recovery test
SMBs often rely on their IT staffs' knowledge of the environment and feel they are covered in the event of a disaster. But what if the staff is unavailable following a disaster and the company might have to rely on other people that are not as familiar with their IT environment to assist with the recovery effort. This is where all the shortcomings of the disaster recovery plan can be exposed and why it is imperative to test before this happens.
Besides making sure the plan will actually work when needed, regular disaster recovery testing offers other benefits, including:
A great disaster recovery training opportunity.
A raise in the profile of your disaster recovery program and a heightened awareness within the company.
Test results that can be available for auditors to review.
Learn more about conducting a disaster recovery test.
Disaster recovery planning in a virtualized environment
Because of its ease of deployment and integration, server virtualization can be a highly effective tool for disaster recovery for SMBs. Server virtualization addresses three concerns related to disaster recovery:
Cost: Virtualization allows companies to reduce the number of physical servers they deploy at production and recovery sites.
Procurement delays: Virtualization eliminates most hardware dependencies.
Rapid recovery: Virtualized server images can be rapidly deployed and in some cases, moved across physical systems.
Learn more about using server virtualization for disaster recovery.
Dig Deeper on Small-midsized Business Disaster Recovery